Bringing up your children after your divorce and supporting the family on less money than in the past is a tough job. A holiday is a good idea and richly deserved. At last the travel industry has begun to understand the needs of the single parent traveller and his or her family.
Planning is the key to success
If you are planning a holiday as a single parent it is wise to start planning the right kind of trip both in terms of destination and what you are actually going to do. Lying on a baking beach in Bodrum or trekking through the Welsh mountains may have been a good idea some years ago but now solo and with two kids it could be a seriously bad choice.
Involve the kids in the decisions
Pick the right place so there is plenty to occupy all of you in a relaxing environment. Involving the kids in this planning phase will be fun for them, give them some influence over what you do and an idea of what to expect the holiday will be all about. It also avoids going on holiday and spending the majority of your time doing only what the kids want to do. That's no way to relax and get what you need from the break.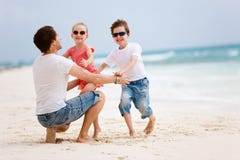 Balance the family's needs and be prepared to make trade offs
Planning your time before you go will avoid all those hot and debilitating arguments about what happens next without taking the fun and spontaneity out of the holiday.
It's probably best to spend one third of your time doing something that you want to do with kids in tow, one third of the time doing something specifically for them and the final third doing something you'll all enjoy. So if you want to visit the Roman ruins nearby then you are going to have to go to the garish (and almost certainly expensive) Water Park at least once!
Don't do too much, it's meant to be a relaxing holiday
Having a good mix of activities is important to avoid you and your children getting overtired and irritable. Most of the problems with kids on holiday are caused by doing too much and getting exhausted. You physically cannot do as much in strong sunshine and 30º C as you can on a damp Welsh hillside in February.
Get the balance right
Balance a morning in the cool of a museum or cathedral (you're never too young to appreciate a good cathedral!) with a relaxing afternoon playing boule or building sandcastles on the beach. If you visit an amusement park, try to spread your visit over two days so you can enjoy all of the big rides without stressing you out or your kids. That way you might also be able to see the ruins of one of the best Phoenician ports in the Mediterranean. Absolute heaven.